MIDNIGHT wrote:
Holyman wrote:
If Trump's Government kicked out all the illegal immigrants it knows where to locate, this would have a more-or-less immediate beneficial effect on the wages paid to legal U.S. citizens. (Certainly more beneficial and more immediate than Trump's tax cut...)

And the increased tax revenues from increased U.S. worker incomes, would pay for the additional Immigration Enforcement staff taken on to deport any illegal that has been taking the piss for ten years or more (that's two-thirds of all illegals in the U.S.).
No shit Sherlock you think 20 million plus just came over the border in one year. As far as them "ruining the country".....well the ones that managed vote for the current crop of insane leftist politicians sure are.


illegals are a mixed bag, there is some good and some bad. My preference is a controlled system that immigration that maximizes the good and controls the chaos.
Now hold on a sec… This discussion could easily turn chaotic, if we don't keep control of it..!
Your preference is for a controlled system of immigration.
There is already a controlled system of immigration in place in the United States. If a non-U.S. Citizen wants to apply for U.S. citizenship, they may.
Anybody who is currently living in the United States, who is not a natural born citizen, and who has not been given permission by the U.S. Government to live in the U.S…. (or temporary leave to remain whilst their asylum application is reviewed…)
Is an illegal immigrant.
There's no "some good and some bad" about it. There is only legal and illegal.
OK. So we're on the same page now, right?
Alright.
Now because of the nature of Donald Trump's election campaign, the policy priorities he declared, and the nature of his voting base, Trump declared that he would do something to reduce the number of illegal immigrants living (and working) in the United States.
'Cos let's be clear: *THAT'S* the actual job in hand.
Not building a wall, increasing border guards, doubling the number of ICE agents on the streets… Those are just: Methods.
The objective is to reduce the number of human beings living and working illegally in the United States of America.
Right?
A border wall along the southern U.S. border is just a (proposed) method for reducing the inflows of illegal immigrants into the U.S.
It isn't the act of building a wall that Trump and his supporters want to see completed. It is a reduction in the number of illegal immigrants living and working in the U.S.
Right?
If illegal immigration across the U.S.-Mexico border was at zero, nobody would be supporting the construction of the wall, because there would be no need for it.
Have I made my point yet..?
It isn't the building of the wall that is important, but reducing the number of illegal immigrants living and working in the U.S.
Alright then.
So if the object of the exercise is to reduce the number of illegal immigrants living in the U.S., the figures show that it would be much more effective to simply deport anyone who is living in the U.S. illegally.
The cost required to do this would be additional funding for the U.S. Immigration and Customs Enforcement (ICE) Agency. On more and better paid staff, mostly. But also on improved processes that flow more efficiently and produce more rapid resolutions.
No Government showdowns or shutdowns.
Just more funding for the ICE Agency.
The
U.S. Immigration and Customs Enforcement agency
currently has a staff of around 20,000; and an annual budget (2018) of $7.6 billion.
That is about 1% of the manpower, and 1% of the budget of the U.S. Department of Defense [sic].
It's also only about a third of NASA's budget… And NASA doesn't even have its own spaceships anymore..!!!.
And it's less than the $11 billion the U.S. Government spends on researching and supporting *RENEWABLE ENERGY*, ffs!
Now that Pew Research Center study I linked to above shows that despite a drop in the number of illegals living in the U.S., from 12.2 million in 2007, there are still more than 10 million illegal immigrants living (and working) in the U.S.
The ICE Agency is part of the Department for Homeland Security.
No Congress, regardless of whether the Red or Blue Team is in charge, is going to disapprove a DHS budget.
Trump could have just doubled the ICE Agency budget, for the same cost as his wall. There would have been no political drama at all; no government shutdown; and deporting illegal immigrants whose whereabouts are already known to U.S. authorities, would have a far more immediate and much more beneficial effect.
Spend $5 billion on a wall, and you're going to have to wait until it is built, before you can get any return on your investment.
Two-thirds of illegal immigrants in the U.S. enter the country legally, so the wall won't stop them.
Nor will the wall be able to dissemble itself into individual nano-drone-bricks, which will then seek out illegals living in the U.S., before brick-droning them out of the country, dropping them in Mexico, before reforming as The Wall.
So…
Why-oh-why would Trump go for his wall, rather than increasing the ICE/DHS budget..?
(And if you are tempted to suggest that there might be some political/popular outrage at increasing the budget/authority/intensity of ICE operations… I'll just draw your attention to the political/popular outrage at the wall proposal and associated government shutdown.)
MIDNIGHT wrote:
I've been grinding my teeth about illegal immigration since the 1986 Imigration and control act. So I'm thrilled Trump is actually trying to do something different.
He's not though, is he.
Building a wall to keep unwanted people out.
That's hardly "different".
In fact, I'd go so far as to say it is the oldest and most traditional method of keeping unwanted people out of your Society.
Societies and governments have been building walls for millennia, to try and keep people out.
I think the Chinese had a go at it at some point in their History… Didn't work out too well for them though: their enemies just went around the Great Wall, if getting over or through it would take too much time.
MIDNIGHT wrote:
The whole systems been broken forever, and it need multi tiered approach to fixing. Currently the Democrates are proposing a "Virtual Wall" it's all vaporware. Building effective walls were in makes sense is rock solid strategy. Plus the Dems can't unfund it once it's built.
Why not just reduce the number of visas given to foreigners?
If two-thirds of your illegal immigrants entered the country legally, and then decided not to leave… Reducing the number of people who are allowed into your Nation legally, must necessarily reduce the numbers of those who decide to stay.
What's complicated about that?
MIDNIGHT wrote:
Furthermore all the top Dems including Obama supported bigger better walls a few years ago, there are compilation vids on YouTube of them calling for it.

They just hate Trump. Hence would rather see it all burn then allow him to sit on the Throne.
You guys are so funny.
Look…
The reason why you have more than 10 million illegal immigrants living and working in your Nation, is because those immigrants will work for less money than most Americans are prepared or able to.
Your Government and the corporations that own it, like the fact that the presence of illegal immigrants decreases the amount of money corporations have to pay their workforce.
And I'm not just talking about the jobs that illegal immigrants do.
Everything cascades.
Illegal immigrant takes a shitty, menial, low-paying job, for less money than any legal citizen is prepared or able to accept.
That legal citizen still has to find work however. So they apply for the next job up the Shitty Jobs Ladder, and in order to ensure they get it (and can pay their bills), they also work for less money.
And so it goes… Upwards.
The scale of illegal immigration in the United States is one of the core reasons why Americans basically haven't had a wage rise since the early 1960's.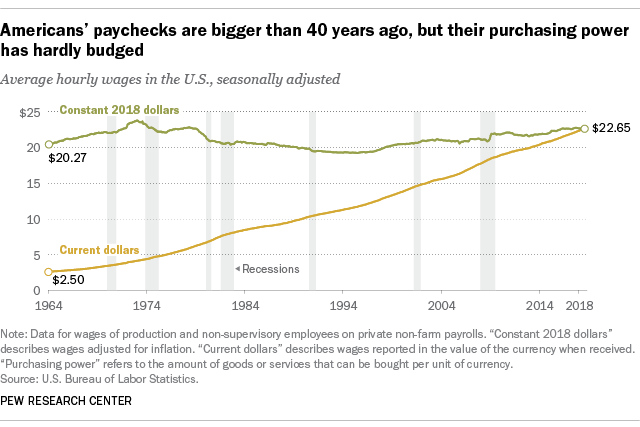 http://www.pewresearch.org/fact-tank/20 ... r-decades/
And the reason why there is so much illegal immigration in the U.S., is because U.S. corporations don't like paying U.S. workers a living wage.
It's one of the reasons why you are living in such a Topsy-Turvy America at the moment.
The Republican Party is… Less coy about whose interests it serves. Despite all the schisms in the GOP, and despite Trump, the Randian principle that still unites the Party, is that Business Knows Best. And wealthy, successful corporations make for a wealthy, successful Society.
So the Republican Party wants to keep wages on the low side; which means it doesn't really put *THAT* much effort into deporting long-term illegals residing in the U.S.
The Democrat Party are at least as compromised by its links to its donors (especially Wall Street); however, the kind of business sectors and corporations that support the DNC, are generally more "white collar", and don't depend so directly on cheap, illegal immigrant labour.
The Dems also have a fractionally greater requirement (than the GOP) to try and demonstrate some marginal increases in U.S. worker pay… 'Cos… You know… The Democrat Party is "Left-Wing" and "Progressive"… (It isn't…
)
So maybe that explains why, after two years of President Trump banging on about the perils of immigration and the need to build *THAT* wall…
Deportations under Trump are on the rise but still lower than Obama's, ICE report shows
What's that about..?!?
Trump… The most Nativist U.S. President since the 19th Century… Who can't seem to get through a day without at least one tweet about the rapists, murderers and terrorists flooding across the U.S. Border…
Has deported fewer illegal immigrants than his lily-livered, snowflake, Liberal-pussy predecessor.
What's *THAT* about..?!?